EXPERT STUCCO PAINTING & STUCCO REPAIR CONTRACTOR IN CALGARY
SERVING CALGARY, AIRDIRE AND OKOTOKS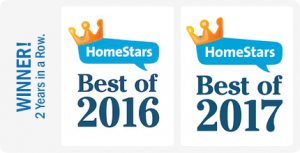 GET A FREE STUCCO ESTIMATE
Fill out the form below to get a free estimate today.
Stucco Painting in Calgary Since 2007
Legacy Exteriors is Calgary's #1 stucco rejuvenator! Whether you're looking to refresh the original appearance of your home, or change the colors completely, painting your house with us will do wonders for the look of your home. 
Quality preparation, quality paint products and quality application ensures that we get the job done to your complete satisfaction. From our detailed written estimate to the final inspection, we make every effort to ensure your total satisfaction. 
Legacy is reliable and affordable. Appointments are available at your convenience with professional, knowledgeable, and experienced staff. Painting is our passion.
Expert Stucco Paint & Stucco Repair in Calgary
The first step in our process is sending a Legacy representative to your property to provide you with all of the information you need to make a proper, informed decision that you're comfortable with.
After all of the decisions have been made the process is really straight forward.
Call Now to Speak with Our Calgary Stucco Contractors for a Free Estimate
Our Unique 4-Step Stucco Repair System for Invisible Color Matching
Legacy Exteriors unique 4 step approach to Stucco Repair consistently produces the most seamless and invisible repairs in all of Calgary. We've perfected our process to perfectly match both texture and colour of the existing, undamaged stucco. Contact Legacy Exteriors today for a free quote to your Stucco look brand new again.
Our Stucco Painting & Repair Process
The single most important factor in painting is preparation. Quality preparation of all surfaces prior to repairs ensures that proper adhesion occurs during the painting process.
Step 1 – Power Pressure Wash to Prep Stucco Surface
Surfaces scheduled to be painted must be thoroughly pressure washed and cleaned. Legacy will pressure clean surfaces with a 10% – 20% bleach solution at no less than 1500 PSI to remove pollutants that may interfere with the painting process. These include dirt, grease, chalk, algae, mildew, and any loose or peeling pre-existing plaster, coatings or stucco.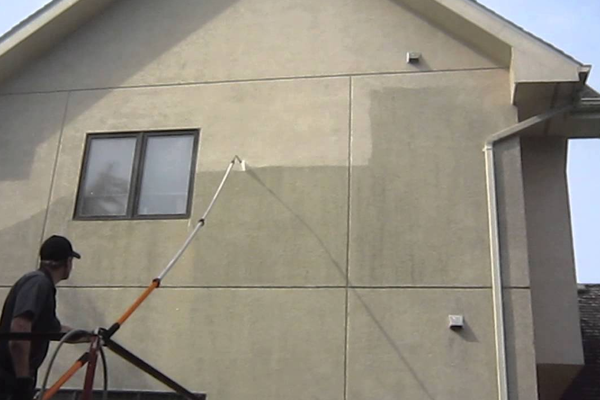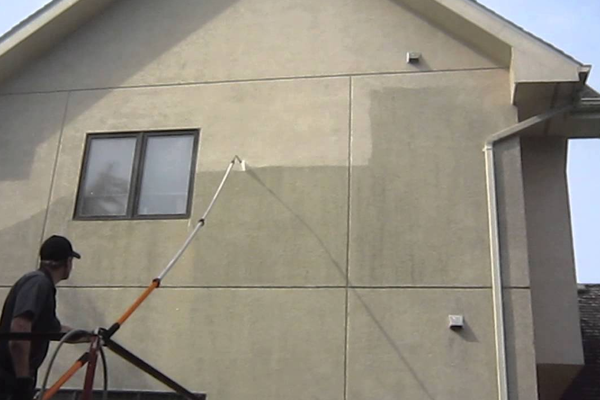 Step 2 – Scraping and Priming for Optimal Adhesion
Legacy will scrape and remove all existing loose paint on bare wood surfaces, and damaged and chipped stucco will be scraped, cleaned, and primed for stucco repairs. For a smooth, clean look in the finished repairs, the starting surface must also be clean and smooth.
Priming bare wood and stucco before painting will prevent the porous surfaces from soaking up the paint, which may result in more materials needing to be used or in an uneven look. Priming also allows for proper adhesion of new paint.
Step 3 – Stucco Caulking to Fill Cracks and Gaps
Legacy will remove and replace loose caulking, giving special attention to windows and doors. We will fill open gaps with new caulking to prevent air and moisture from penetrating the surface. Even small breaches in the caulking on your home can compromise the integrity of the material. We ensure the siding, doors, and windows in your home remain as protected and energy-efficient as possible.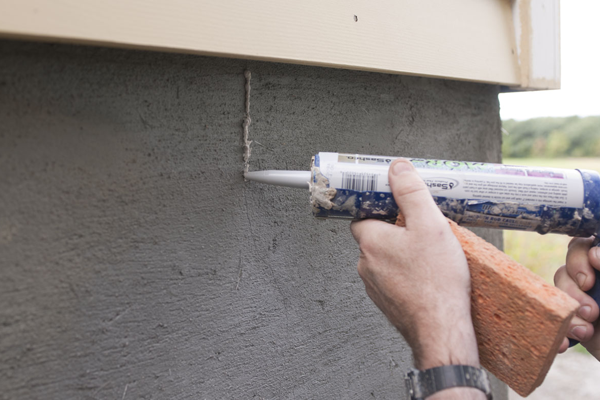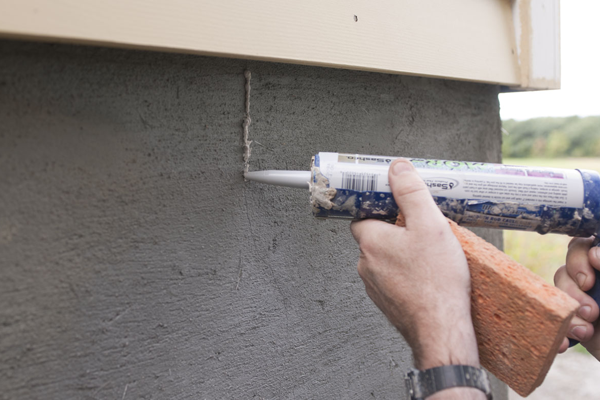 Step 4 – Stucco Repairs for Seamless Restoration
We are your #1 choice for stucco repair in Calgary. Crack repair must be performed if a waterproof system is to be achieved. If the siding of your home isn't waterproof it simply isn't doing its job. Even a small crack or hole could let moisture in, leading to mold, mildew, and rot. Legacy will fill and repair all stucco cracks and holes larger than 1/16th of an inch using top of the line stucco patching and stucco repair products. Hairline cracks will be repaired without additional treatment when the stucco is primed and painted. 
Step 5 – Paint Masking and Drops to Protect Surrounding Areas
Trust Legacy Exteriors to keep the workspace and your home tidy throughout the course of your stucco painting and stucco repair project. We will protect all areas around the home with drop cloths or poly plastics. Windows, doorknobs, and light fixtures will be masked off to prevent paint damage during application.
Step 6 – Stucco Painting for a Perfect Finish
Legacy is your #1 choice for stucco painting services in Calgary. We use quality paints from Cloverdale, the leading manufacturer and distributor of high-quality paints. The application will consist of spraying, brushing, and/or rolling. The application method depends on the size and accessibility of the area that needs to be coated, and our extensive skill set in stucco painting allows us to give your home a beautiful, cohesive look. The paint will be applied evenly and can last up to a decade. Stucco painting means your home gets a fabulous makeover while your siding stays sealed and protected.
Cleanup & Inspection –
When we are finished painting and repairing your stucco siding, all drop cloths, tape, and debris will be removed from your home and the surrounding area. Legacy will perform a walk-through inspection with you to ensure our stucco painting and stucco repair work has been completed to your satisfaction and even leave you with touch-up paint should any small amount of damage occur before the stucco needs to be repainted again.
When you choose Legacy Exteriors, you're choosing the best stucco contractors in Calgary!
Legacy Exteriors is Calgary's #1 stucco repair and stucco painting contractor, and our reviews attest to that! Whether you're looking to install new stucco, make repairs on a damaged section, rejuvenate your stucco exterior with a new colour paint.
From our detailed written estimate to the final inspection, we make every effort to ensure your total satisfaction. ​

Legacy is reliable and affordable. Appointments are available at your convenience with professional, knowledgeable, and experienced staff. Stucco Painting is our passion.
Discover Products That Redefine Exterior Paint for Stucco
The right products make all the difference. Legacy Exteriors uses premium brand paints and supplies for all its operations. The following is our preferred product brands with description.
Weather-One Cover coat Flat Latex.
Weather-One Cover coat Flat Latex is a premium latex finish for use on stucco, masonry and primed wood. An ideal choice for masking the effects of uneven light refraction on irregular surfaces such as concrete "tilt up" construction and all exterior textured substrates. The paint provides a rich even finish with excellent hiding properties. This product may also be applied to exterior metal and galvanized surfaces where proper surface preparation and applicable primers will be required.
Weather- One Cover coat Satin Latex
Description: Super premium quality 100% acrylic latex exterior finish for use on stucco, masonry wood, exterior metal and galvanized surfaces where proper surface preparation and applicable primers are required. This paint is an ideal choice for aluminium and weathered vinyl siding. Dark colors are NOT recommended on vinyl siding as heat absorption can cause vinyl to ripple. Satin latex is a super premium quality product with excellent hiding and durability in a rich, low sheen finish.
Towerthon – Acrylic Elastomeric Coating
Towerthon is a high solid elastomeric coating formulated for use on masonry, concrete, wood, vinyl and aluminium siding. Towerthon's excellent elongation properties make it the coatings of choice for hairline or "spider web" cracked surfaces in stucco. It moves with the building, expanding and contracting to maintain a waterproof barrier. Towerthon dries to an attractive satin sheen and is available in brilliant white and thousands of custom colors.
The Towerthon Advantage:
Flexibility – Towerthon paints remain flexible over a broad temperature range.

Waterproof & Breathable – Towerthon seals out wind-driven rain and moisture rundown.

Mildew Resistant & Non-Toxic – Towerthon contains non-mercurial anti mildew fungicides to resist the growth of disfiguring mold and mildew

Exceptional Adhesion – Towerthon has excellent adhesion to masonry, concrete, stucco, asphalt roofing, galvanized metal, urethane foam and glass.

Dirt Rejection – Towerthon's low sheen waterproof finish resists airborne dust and dirt accumulation.

Warranty – Towerthon is warranted against peelings, blistering, excessive chalking, and above ground water penetration from rain.

Under normal conditions, Towerthon paint dries in only 3 to 4 hours and becomes fully cured in 7 – 14 days!
Contact Legacy For All Your Stucco Painting & Stucco Repair Needs
GET A FREE STUCCO ESTIMATE
Fill out the form below to get a free stucco painting or stucco repair estimate today.
Leading Stucco Contractor in Calgary, Alberta
Legacy Exteriors is located at Cranberry Cir SE, Calgary, AB T3M 0N7. From Calgary International Airport (YYC) head west on Airport Rd NE and take a slight left to stay on Airport Rd NE. Continue straight to stay on Airport Rd NE and then onto Barlow Trail NE N. Take the ramp onto 96 Ave NE/Airport Trl NE W and use the left 2 lanes to turn left to merge onto Hwy 2 S/Deerfoot Trail NE/AB-2 S toward Trans Canada Hwy/AB-1/City Centre. Follow Hwy 2 S for about 33.8 km and take exit 232 for Cranston Ave. Merge onto Cranston Ave SE and turn right onto Cranberry Rd SE. Turn right onto Cranberry Ave, then turn right onto Cranberry Gardens SE and finally turn right onto Cranberry Cir SE and Legacy Exteriors will be on sight.

We are open 24/7

For additional questions, you can call (403) 993-8976 or find us on Yelp